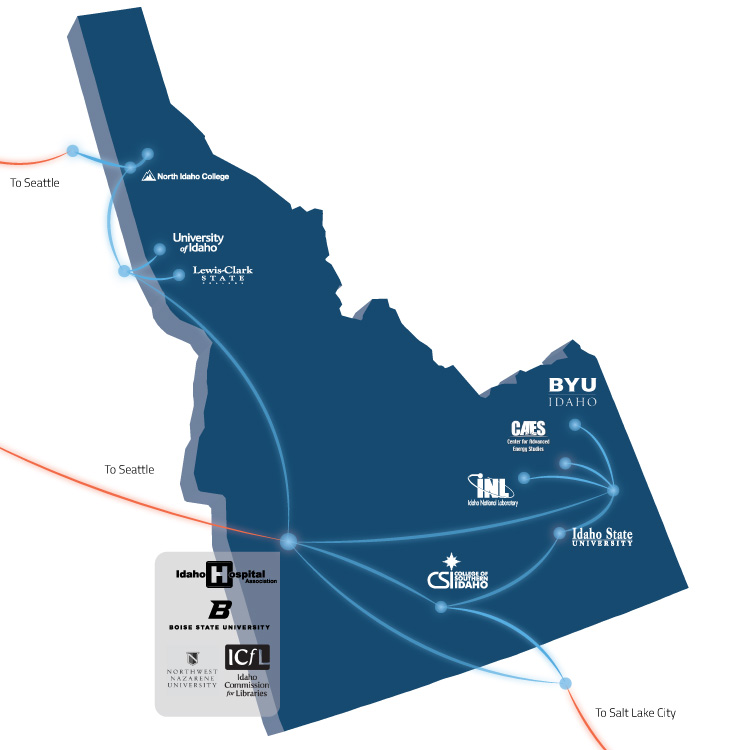 IRON is a regional optical network that focuses on serving research and education in Idaho. Researchers and educators use IRON to transfer "big data" between the research universities, other educational entities, the national laboratory system, and the health sector. Without IRON, research and economic development would be significantly impeded in Idaho.
IRON is not a service provider and does not compete with telecom or private Internet providers. Rather, IRON works on behalf of its Charter and General Associates to negotiate for long term connectivity between Associates, Internet2 and the public internet in the least expensive manner possible. IRON purchases connectivity from local, regional and national providers on behalf of its Associates to realize savings through aggregated bandwidth, and the superior performance provided by a private network
IDAHO SITS ASTRIDE MASSIVE INTERNET NETWORKS that connect the state with the world's premier integrated global facilities involved in data-intensive scientific research.
IRON keeps Idaho connected internally and externally with the world's fastest networks and advanced research. Call us for more technical information.